Course Descriptions | Curriculum | Jobs | Student Work Policy | Surgical Technology Admission Policy
Surgical Technology (Grenada & Ridgeland)
Contact Information:
Jessica Elliott (Grenada Campus)
jelliott@holmescc.edu
662-227-2310
Grenada Campus
Travia Shea Coleman (Ridgeland Campus)
tcoleman@holmescc.edu
601-605-3396
Ridgeland Hall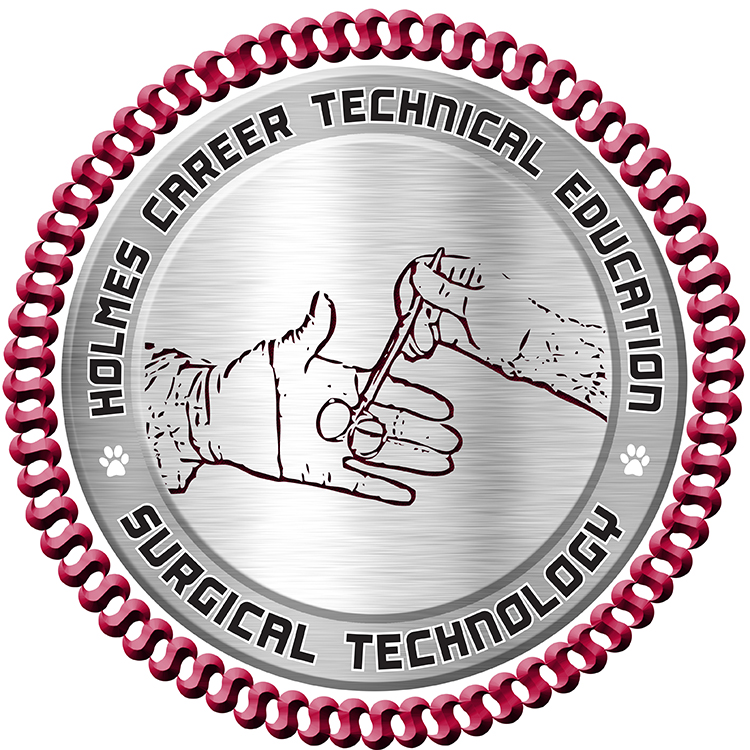 Surgical Technology is an instructional program that prepares an individual to serve as a member of the surgical team to work with surgeons, anesthesiologists and certified registered nurse anesthetists, registered nurses, and other surgical personnel in delivering patient care and assuming appropriate responsibilities before, during, and after surgery. This program includes the education of all aspects of surgical technology including the role of second assistant & circulators.
The Surgical Technology Program offers classroom and clinical experiences for the entry-level surgical technologist which includes courses in aseptic technique, operative procedures, patient care, anatomy and physiology, microbiology, pharmacology, medical terminology, medical/legal aspects, technological sciences (computer, electricity & robotics), and related general education to help the student fulfill his/her role as an important, knowledgeable member of the surgical team.

The goal of the Surgical Technology Program at Holmes College is to prepare competent entry-level surgical technologists in the cognitive (knowledge), psychomotor (skills), and affective (behavior) learning domains. Further, the Surgical Technology Department will provide students with the opportunity to develop skills and knowledge necessary to gain employment as a surgical technologist and become a contributing member of the healthcare team.

Graduates of the 12-month program will be awarded a Technical Certificate of Surgical Technology. The Associate of Applied Science Degree in Surgical Technology will be awarded the successful graduate of the 24-month program. Qualified graduates may apply to the National Board of Surgical Technology and Surgical Assisting (NBSTSA), to take the Surgical Technologist Certifying Examination to become a Certified Surgical Technologist.
Successful completion of any semester of study must include 75 percent mastery of each subject in order to progress to the next semester. Some courses may require training at local clinical facilities. Graduation requirements include completion of the prescribed clock hours as mandated by the Mississippi Community College Board. Holmes Community College Surgical Technology Programs are accredited by the Commission on Accreditation of Allied Health Education Programs (www.caahep.org), 25400 U.S. Highway 19 North, Suite 158, Clearwater, FL 33763, (727) 210-2350 upon the recommendation of the Accreditation Review Council on Education in Surgical Technology and Surgical Assisting (ARC/STSA). Surgical Technology Data — National Exam Pass Rate NBSTSA (1st write) 2015 - Grenada 100 percent; 2014 - Grenada 75 percent.