Robert Pool
Hernando native Robert Pool will be inducted into the 2022 Sports Hall of Fame for his 18-year career as a football coach for the Bulldogs.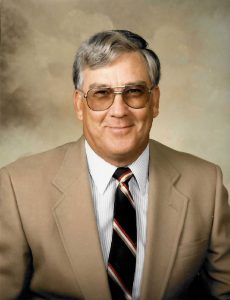 After high school he earned a bachelor's and a master's degree from the University of Mississippi.
Pool took a position coaching football and baseball at Hernando High School after college where his teams played in two championship games for baseball. A few years later, Pool transitioned to Magnolia Heights in Senatobia where he coached for six years and had two state championships appearances winning one of two. He is in the Magnolia Heights High School Athletic Hall of Fame for coaching football.
In 1980, Pool credits a relationship with the late A.J. Kilpatrick for bringing him to Holmes as an assistant coach. Kilpatrick, who was the head coach at Holmes Junior College at the time, led the Bulldogs to a state championship in 1981.
Pool left Holmes to become the head coach at Greenwood High School before returning to Holmes in 1986 as head coach. Pool credits the late M.R. Thorne and Henry B. McClellan for their leadership during this time. Thorne served as president while McClellan was assistant to the president.
With the position of head football coach came a lot of responsibilities in addition to coaching such as field maintenance and recruitment. Pool built great relationships with his players, and they worked hard on the field to be their best.
"The bottom line is everyone wants to win, but the players who played for me at Holmes are among some of my most memorable in my career," Pool said.
Pool lead the Bulldogs to two bowl games and two state championship appearances. In 1981, the Bulldogs won and in 1988 they fell short of victory to Hinds
Randy Baldwin, Reggie Tiller and Walter Jones are among a few of the star athletes that played under Pool during his career at Holmes. Baldwin and Tiller played on the 1988 football team that had a state championship appearance.
The Mississippi Association of Coaches named Pool as Coach of the Year for the 1988-89 season and in 1991 recognized him with the association's Service Award.
"I am very proud of the players and even prouder to see the good people they have become," Pool said.
After coaching, Pool became Holmes' dean of students and athletic director. Billie Joyce, Pool's wife, also joined the faculty as a social science instructor teaching Sociology and Marriage and Family. In her spare time, she tutored students who needed additional academic attention. Pool and his wife currently reside in Lake Cormorant with his wife, Billy Joyce, and are regular supporters of the college.