Holmes Trek Center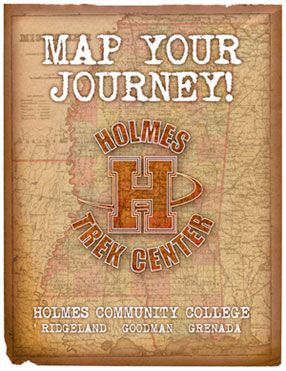 About Us
The Quality Enhancement Plan (QEP) is an important part of the reaffirmation of accreditation process for the College. Each institution that is reaffirming its accreditation is required to develop a five-year plan to improve student learning or the learning environment at the institution. The development of an institution's QEP is to be a school-wide effort and have broad-based support of the College's stakeholders.
The Holmes Community College QEP entitled Map Your Journey! addresses key obstacles that students encounter in the early stages of their academic careers such as financial aid difficulties. Connecting long-term academic planning to viable career paths is important for accomplishing the educational journey. A centralized facility known as the Holmes Trek Center will serve students in a supportive environment, nurture personalized education paths, and foster lifelong learning. The Trek Center focuses on improving the overall quality of students by providing a resource for academic and career coaching with long term planning to prepare students for success.
Trek Coordinators provide additional student support services by connecting students with appropriate staff personnel, presenting various informative workshops, and offering personal assessment opportunities. These students will also be given the opportunity to enroll in LLS 1321 Career Exploration to receive additional concentrated coaching to ensure the success of attaining good financial/academic standing, selecting a program of study to develop a curriculum plan, and achieving gainful employment upon graduation.
The Holmes Trek Center is a resource for students to receive academic and career coaching. Trek Coordinators reinforce student support services and connect students with appropriate staff personnel. The coordinators assist students in planning accessible academic goals and developing potential career options using various assessment tools in addition to providing academic and career workshops. Workshop topics include academics, financial aid, graduation, life skills, and career opportunities. Other preparations for student success include transfer procedures, resume enhancement, and interview skills in addition to advocating student-life opportunities for college involvement.
Helpful Links: