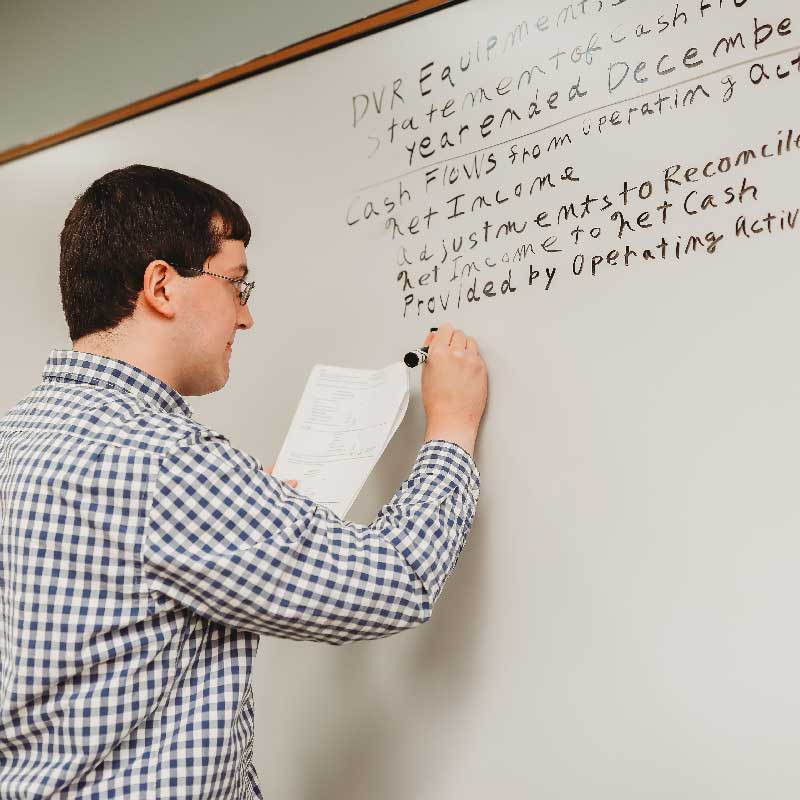 Economics
Pursuing an economics program of study is an option for students who want to pave the way for improving the living conditions of people. This is a highly relevant field as it helps us to understand the production, distribution, and consumption of goods and services. Jobs may include being an economist, financial risk analyst, data analyst, financial planner, accountant, or investment analyst. Possible employers could include local or national government or public/private banks. Economics graduates are often able to make sense of complex data sets and identify the root of financial problems.
Business Pathway
Program Curriculum
ASSOCIATE OF ARTS
FIRST YEAR:
First Semester
English Composition I ENG 1113
College Algebra MAT 1313
***Fine Arts Elective (3)
**Business Elective (3)
*History Elective (3)
Total 15 Hours
Second Semester
English Composition II ENG 1123
General Psychology PSY 1513
Public Speaking I SPT/COM 1113
**Business Elective (3)
*History Elective (Continuous) (3)
Total 15 Hours
SECOND YEAR:
First Semester
Principles of Macroeconomics ECO 2113
The Legal Environment of Business BAD 2413
Principles of Accounting I ACC 2213
*Business Calculus I MAT 1513
Natural Science w/Lab (4)
Total 16 Hours
Second Semester
Principles of Microeconomics ECO 2123
Business Statistics BAD 2323
Principles of Accounting II ACC 2223
Literature Elective (3)
Natural Science w/Lab (4)
Total 16 Hours
*Consult with your chosen transfer university/college to determine changes to this curriculum.

**Choose from the following Business Electives:
BAD 1113 Introduction to Business
BAD 2213 Introduction to Marketing
BAD 2513 Introduction to Management
BAD 2533 Computer Applications in Business & Industry
BAD 2813 Business Communications
BAD 2853 Business Ethics

***ART 1113 Art Appreciation, MUS 1113 Appreciation, or SPT 2233 Theatre Appreciation
Enrollment in a minimum of 15 hours each semester is recommended for eligibility for state aid, institutional scholarships, and the tuition break.