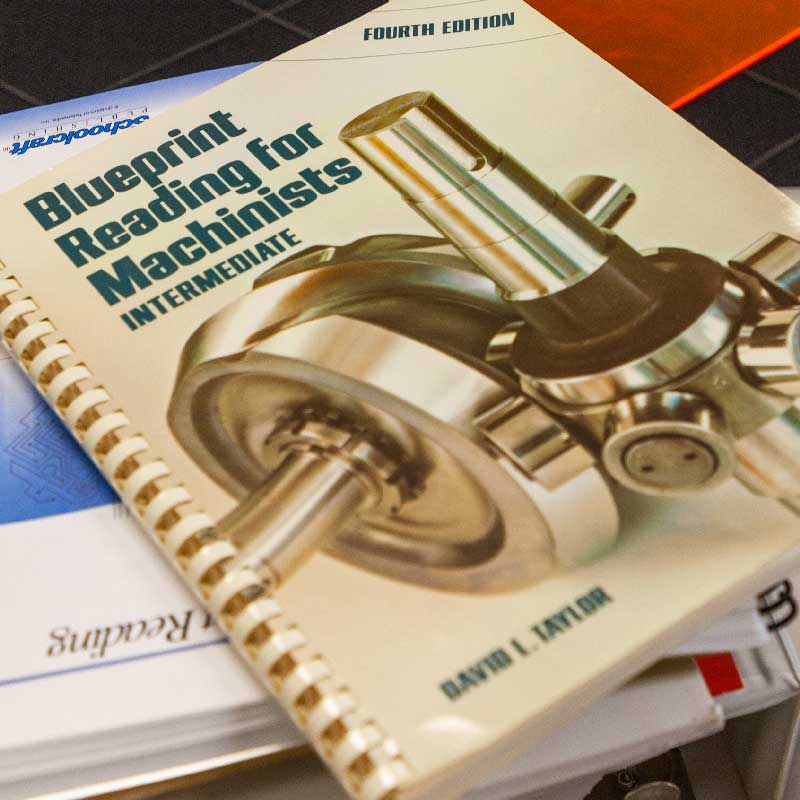 Precision Machining Technology
Precision Machining Technology leading to a Technical Certificate or AAS, is a program that provides individuals with the skills to fabricate and/or repair metal products using a variety of metalworking equipment and processes. Students enrolled in our machining program are prepared to enter the workforce as entry-level machinists. This involves learning the skills and techniques needed to interpret blueprints, set up manual machines, perform basic and advanced machining operations, and make decisions to ensure that work quality is maintained. Employment opportunities for machining technicians exist in manufacturing industries, public institutions, governmental agencies, and in a wide range of specialty machining job shops.
PRECISION MACHINING TECHNOLOGY
Program Curriculum
ASSOCIATE OF APPLIED SCIENCE
FIRST YEAR:
First Semester
Power Machinery I MST 1114
Precision Layout MST 1613
Blueprint Reading MST 1413
Machine Tool Mathematics MST 1313
Manufacturing Skills IMM 1933
Total 16 Hours
Second Semester
Power Machinery II MST 1124
Principles of Hydraulics & Pneumatics IMM 1313
Advanced Blueprint Reading MST 1423
*Approved Electives (6)
Total 16 Hours
SECOND YEAR:
First Semester
English Composition I ENG 1113
Power Machinery III MST 2134
Computer Numerical Control Operations I MST 2714
**College Algebra MAT 1313
Total 14 Hours
Second Semester
Power Machinery IV MST 2144
Computer Numerical Control Operations II MST 2724
Public Speaking I SPT/COM 1113
Humanities/Fine Arts Elective (3)
Social/Behavioral Science Elective (3)
Total 17 Hours

(Option One) A Technical Certificate may be earned after successfully completing the first 32 hours of career technical coursework.
(Option Two) An AAS Degree may be earned after successfully completing required career technical and academic coursework.

*Approved Electives: DDT 2273, EET 1114, 1123, ELT 1413, 2613, 2623, ENT 1114, 1154, 2323, 2263, IMM 1913, 192(1-6), INT 1214, 2114, MFT 2913, MST 291(1-3), WBL 191(1-3), 192(1-3). Any other technical or academic course approved by the advisor.

**MAT 1233 & a natural science with lab (7 hrs. total) OR BOT 1313 & a natural science with lab (7 hrs. total) may be substituted for College Algebra.
Enrollment in a minimum of 15 hours each semester is recommended for eligibility for state aid, institutional scholarships, and the tuition break.