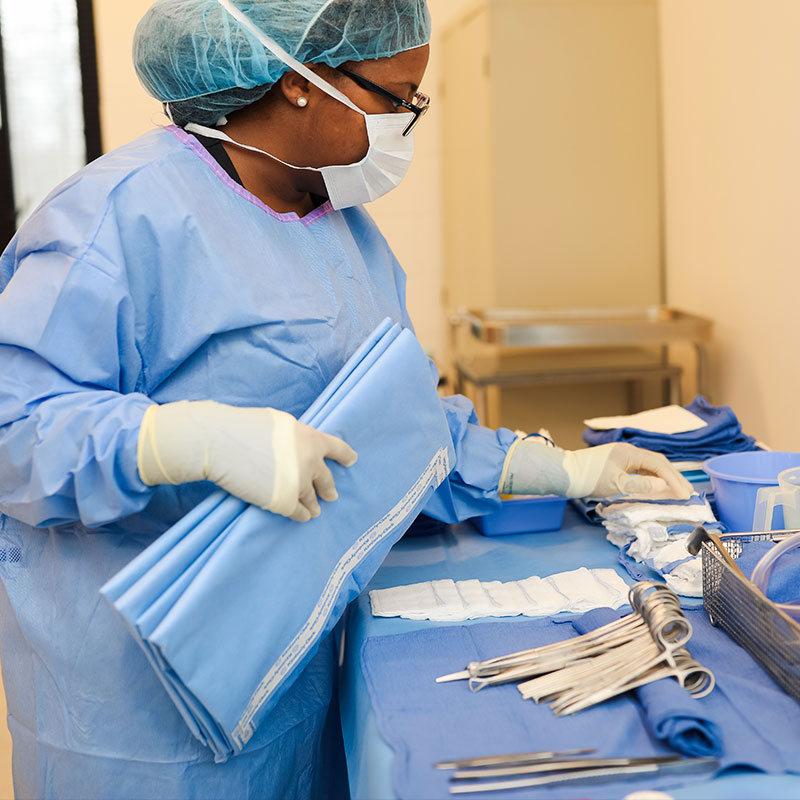 Surgical Technology
Surgical Technology is an instructional program that prepares an individual to serve as a member of the surgical team to work with surgeons, anesthesiologists and certified registered nurse anesthetists, registered nurses, and other surgical personnel in delivering patient care and assuming appropriate responsibilities before, during, and after surgery. This program includes the education of all aspects of surgical technology including the role of second assistant & circulators.
SURGICAL TECHNOLOGY
Program Curriculum
ASSOCIATE OF APPLIED SCIENCE
FIRST YEAR:
First Semester
English Composition I ENG 1113
Anatomy & Physiology I BIO 2514
*Humanities/Fine Arts Elective (3)
*Approved Electives (6)
Total 16 Hours
Second Semester
Anatomy & Physiology II BIO 2524
*College Algebra MAT 1313
**Approved Electives (5)
***Social/Behavioral Science Elective (3)
Total 15 Hours
Third Semester
Advanced Surgical Procedures SUT 1539
Total 9 Hours
SECOND YEAR:
First Semester
Fundamentals of Surgical Technology SUT 1113
Principles of Surgical Technique SUT 1217
Surgical Anatomy SUT 1314
Surgical Microbiology SUT 1413
Total 17 Hours
Second Semester
Basic and Related Surgical Procedures SUT 1518
Specialized Surgical Procedures SUT 1528
Total 16 Hours

An AAS Degree may be earned after successfully completing required career technical and academic coursework.

*MAT 1233 & a natural science with lab (7 hrs. total) or BOT 1313 & a natural science with lab (7 hrs. total) may be substituted for College Algebra.

**Approved Electives: BIO 1134, BIO 1144, BIO 1613, BIO 2924, BOT 1613, BOT 1623, CHE 1213 with CHE 1211, EPY 2513, EPY 2523, EPY 2533/PSY 2533, HPR 1213, HPR 1223, HPR 2213, PSY 1513, SOC 2113, SOC 2143, SUT 1703, SUT 1223, or WBL 191(1-3).
Enrollment in a minimum of 15 hours each semester is recommended for eligibility for state aid, institutional scholarships, and the tuition break.