Holmes Plus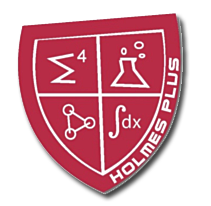 Holmes CC Mathematics and Computer Science Department is an integral component of Holmes Plus on the Goodman Campus. The mission of Holmes Plus is to provide a broad-based mathematical and scientific foundational experience for participants who demonstrate a proven aptitude in these areas.

The program seeks to embrace the potential, expand the horizons, engage the mind, and enhance the future of the scholar by offering a challenging, yet rewarding, curriculum that builds a solid foundation for any career path the scholar may choose. This program allows the scholar to gain valuable insight into various realms of the academic world, fully cultivates the proven aptitude in the areas of mathematics and science displayed by the scholar, and develops the leader within each scholar.

Holmes Plus seeks to inspire the scholars to use their talents, opportunities, and responsibilities to become the most positive contributors to society.
HOLMES PLUS IS DESIGNED TO:
cultivate your potential + engage your mind
tap into the talents you possess + expand your horizons
enhance your leadership potential + help you realize your dreams