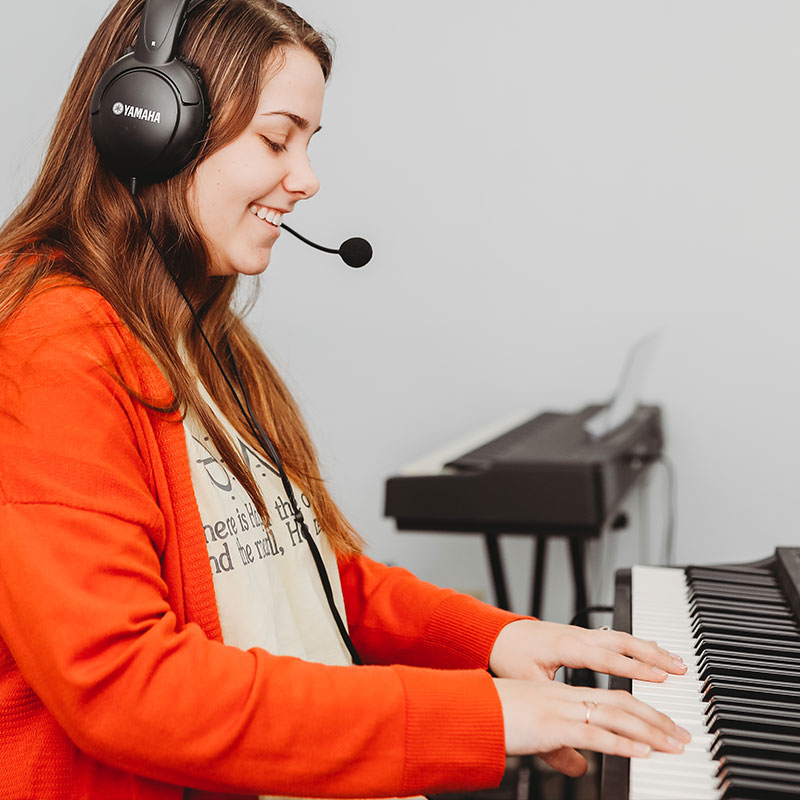 Music
In the music program at Holmes Community College, students hone their technical skills, develop their musicality, and enhance their appreciation for music. Earning an Associate of Arts in Music enables students to pursue any of a number of careers in music education and performance. For careers that require advanced training, Holmes Community College prepares students to transition seamlessly into any accredited undergraduate program. At Holmes, students learn the fundamentals of music and take the first steps down the road to mastery of music theory and music history. Weekly one-on-one lessons and small class sizes offer all music students unparalleled individual attention from highly qualified instructors. All Holmes students are welcomed and encouraged to participate in all ensembles, including Coachmen Singers (contemporary Christian/pop a cappella), Concert Band, Concert Chorale, The Holmes Connection! (show choir), Jazz Band, Marching Band, and Percussion Ensemble.
Arts/Humanities/Language Pathway
Program Curriculum
ASSOCIATE OF ARTS
FIRST YEAR:
First Semester
English Composition I ENG 1113
College Algebra MAT 1313
Recital Class I MUS 1911
*Fundamentals of Music MUS 1133
*Class Piano I MUA 1511
**Music Elective (3)
*Major Instrument I (2)
Ensemble I (1)
Total 17 Hours
Second Semester
English Composition II ENG 1123
Music Survey (Majors) MUS 2123
Recital Class II MUS 1921
*Music Theory I MUS 1214
*Class Piano II MUA 1521
Social/Behavioral Science Elective (3)
*Major Instrument II (2)
Ensemble II (1)
Total 18 Hours
SECOND YEAR:
First Semester
Recital Class III MUS 2911
*Music Theory II MUS 1224
World Civilization I HIS 1163 OR Western Civilization I HIS 1113
*Class Piano III MUA 2511
Natural Science w/Lab (4)
*Major Instrument III (2)
Ensemble III (1)
Total 16 Hours
Second Semester
Recital Class IV MUS 2921
General Psychology PSY 1513
World Civilization II HIS 1173 OR Western Civilization II HIS 1123
*Class Piano IV MUA 2521
Natural Science w/Lab (4)
*Major Instrument IV (2)
Ensemble IV (1)
Public Speaking I SPT/COM 1113
Total 18 Hours
Consult with your chosen transfer university/college to determine changes to this curriculum.

Participation in Choir or Band is required each semester.

*Failure to complete any portion of this combination of courses forfeits advancement to the next level of all.

**Choose from the following Music Electives:
MUS 1413 Basic Computer Skills for Musicians
MUS 2443 Audio Engineering I
Enrollment in a minimum of 15 hours each semester is recommended for eligibility for state aid, institutional scholarships, and the tuition break.