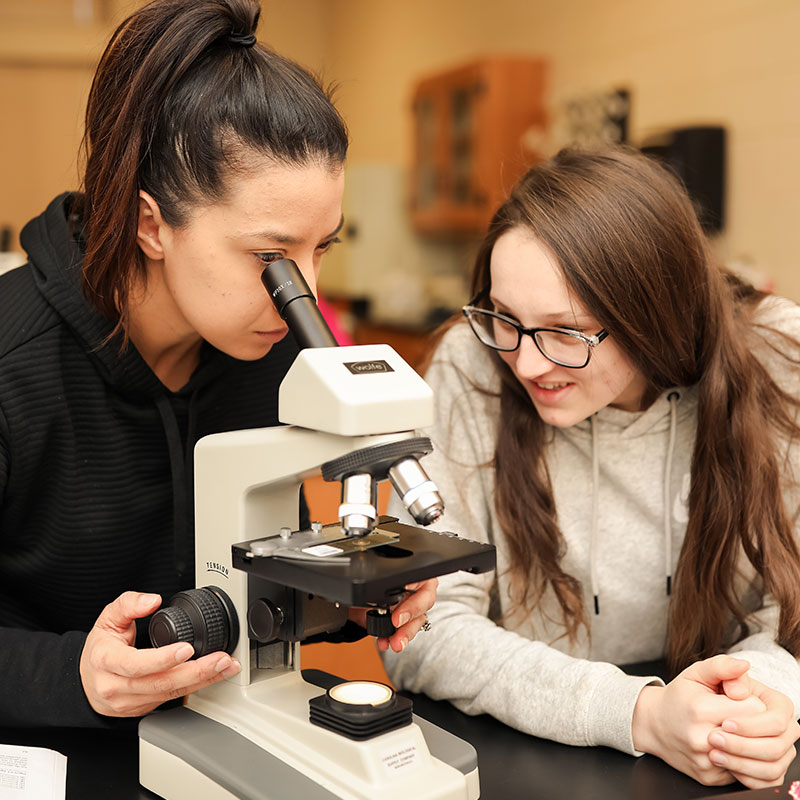 Secondary Education - Biology / Science
To be admitted into a teacher education program that leads to a baccalaureate degree, students will either have to pass the Praxis Core Academic Skills for Educators (CORE) - (formerly Praxis I) examination prior to transferring (if required) OR have scored at least a 21 composite ACT equivalent (consult chosen transfer college for specifics).
Education Pathway
Program Curriculum
ASSOCIATE OF ARTS
FIRST YEAR:
First Semester
English Composition I ENG 1113
College Algebra MAT 1313
General Biology I BIO 1134
General Chemistry I CHE 1214
Total 14 Hours
Second Semester
English Composition II ENG 1123
Trigonometry MAT 1323
General Biology II BIO 1144
General Chemistry II CHE 1224
Public Speaking I SPT/COM 1113
Total 17 Hours
SECOND YEAR:
First Semester
General Physics I PHY 2414
General Psychology PSY 1513
Personal & Community Health HPR 1213
*History Elective (3)
*Literature Elective (3)
Total 16 Hours
Second Semester
Microbiology BIO 2924
*Social/Behavioral Science Elective (3)
**Fine Arts Elective (3)
*Elective (3)
*Elective (3)
Total 16 Hours
*Consult with your chosen transfer university/college to determine changes to this curriculum.

**ART 1113 Art Appreciation or MUS 1113 Music Appreciation
Enrollment in a minimum of 15 hours each semester is recommended for eligibility for state aid, institutional scholarships, and the tuition break.