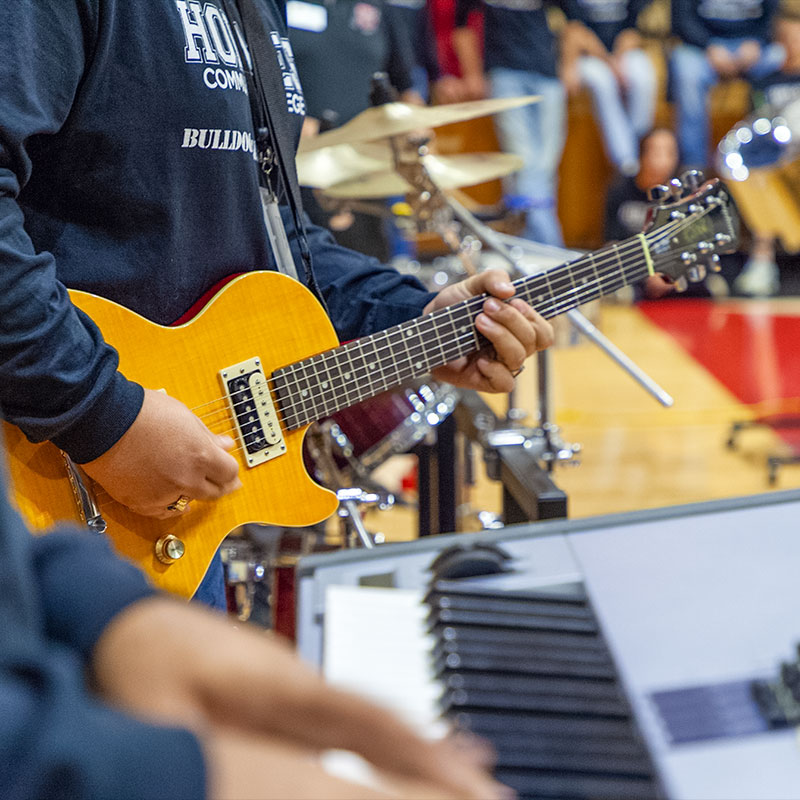 Secondary Education - Music - Instrument
To be admitted into a teacher education program that leads to a baccalaureate degree, students will either have to
· Achieve a qualifying passing score on the Praxis Core Academic Skills for Educators (CORE) as established by the State Board of Education OR
·  Have an ACT composite score of twenty-one (21) (or SAT equivalent) OR
·  Have a minimum GPA of 3.0 on coursework prior to admission to an approved teacher education program**
Education Pathway
Program Curriculum
ASSOCIATE OF ARTS
FIRST YEAR:
First Semester
English Composition I ENG 1113
College Algebra MAT 1313
Band I MUO 1111
Recital Class I MUS 1911
General Psychology PSY 1513
*Fundamentals of Music MUS 1133
*Class Piano I MUA 1511
*Major Instrument I (2)
Total 17 Hours
Second Semester
English Composition II ENG 1123
Music Survey (Majors) MUS 2123
Band II MUO 1121
Recital Class II MUS 1921
Social/Behavioral Science Elective (3)
*Music Theory I MUS 1214
*Class Piano II MUA 1521
*Major Instrument II (2)
Total 18 Hours
SECOND YEAR:
First Semester
Band III MUO 2111
Recital Class III MUS 2911
World Civilization I HIS 1163 OR Western Civilization I HIS 1113
*Music Theory II MUS 1224
Natural Science w/Lab (4)
*Class Piano III MUA 2511
*Major Instrument III (2)
Total 16 Hours
Second Semester
Band IV MUO 2121
Recital Class IV MUS 2921
World Civilization II HIS 1173 OR Western Civilization II HIS 1123
Public Speaking I SPT/COM 1113
Natural Science w/Lab (4)
*Class Piano IV MUA 2521
*Major Instrument IV (2)
Total 15 Hours
EDU 1613 Foundations in Education and Learning is strongly recommended for all Education Pathways.
**Consult with your chosen transfer university/college to determine changes to this curriculum.
Participation in Band is required each semester.
*Failure to complete any portion of this combination of courses forfeits advancement to the next level of all three.
Acceptance into an education program is necessary before students can enroll in required junior or senior level education courses.
Enrollment in a minimum of 15 hours each semester is recommended for eligibility for state aid, institutional scholarships, and the tuition break.