Ways to Give
NEW WAYS TO GIVE
Kroger Community Rewards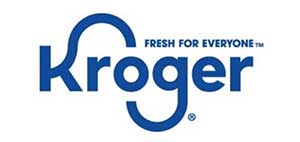 The HCC Development Foundation is enrolled in Kroger's Community Rewards Program. If you have not already indicated an organization for Community Rewards through Kroger, we would love for you to indicate Holmes. It is really easy to enroll through your Kroger account. Once you sign into your account, all you need to do to enroll is enter our code: MW962 for The Holmes Community College Development Foundation.
AmazonSmile

AmazonSmile is the same Amazon online store you already know. All you need to do is indicate Holmes Community College Development Foundation as your charity through AmazonSmile, and Amazon donates 0.5% of the price of eligible purchases to Holmes. It will not affect your Amazon Prime account, and you can purchase the same products at the same prices with the same service.
Employee Payroll Deduction
Looking to give back to Holmes? We encourage our employees to participate in the payroll deduction option by donating to the HCC Foundation. Completing this form and returning it to the Payroll Analyst will ensure your support and dedication to Holmes Community College.
Car License Plate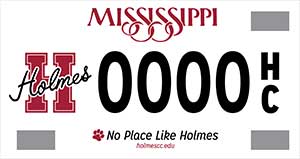 Show your pride wherever you drive! The Holmes Community College Development Foundation has launched a new opportunity for Mississippi residents, especially alumni, employees, and friends, to show their support of Holmes through their travels. Purchasing the tag donates $32.50 directly to Holmes. We are the first community college in the state to have a car tag. Order yours from your local Tax Assessor's office!
Buy a Paver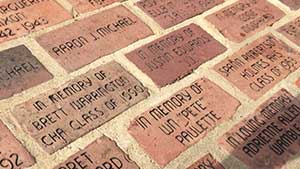 Purchasing an engraved brick in our chapel courtyard is a great way to honor a fellow Bulldog, or make a memorial to a loved one. Pavers are an affordable and long-lasting option that physically leaves your mark at Holmes. Recipients and families are always proud to come "visit" their bricks when they come to campus.
---
TRADITIONAL GIVING
WE WORK WITH YOU
Holmes Community College is ready to work with you and a financial advisor or attorney in confidence and without obligation, to help you explore the best possible method of giving for your circumstance.
Cash or Check (by mail)
Credit Card
Appreciated Stock
Mutual Funds
Marketable Real Estate
Life Insurance Bequests Gift Annuity
Employer Matched Gifts
Recurring monthly, quarterly, or annual commitment
Bonds
Mail us a check:
Holmes Community College Development Foundation
Post Office Box 527, Goodman, MS 39079
Donate with PayPal:
Tap the PayPal link below to make a fast, easy and safe transaction.

PLANNED GIVING
Bequests – leave a gift without diminishing the assets available to you during your lifetime.
Charitable Remainder Trusts – give to Holmes while providing a life income for yourself or beneficiaries.
Gift Annuities – receive life income without a huge donation or complicated agreement.
Life Insurance – make a substantial gift through relatively modest annual payments.
Retained Life Estate – transfer the ownership of a home or farm while retaining the right to use the property during your lifetime.
If you are interested in planned giving, please contact Dr. Lindy McCain, Executive Director of the Foundation at (662) 472-9067 or lmcain@holmescc.edu.