Fine Arts Vocalists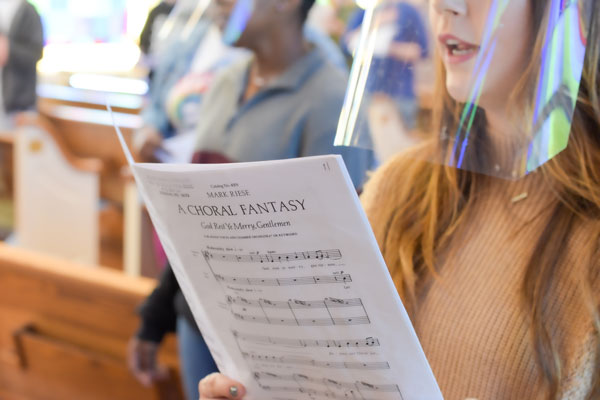 If you are a singer or vocalist and would like to continue your vocal study in a personable and professional environment, then Holmes has a place for you. We offer the following opportunities to talented students:
Voice and Choral Music Major Course of Study
Private Vocal Study
Choral Music Ensembles and Group Performances
Solo Performances
Course of Study
The Voice curriculum follows the basic music major core requirements for graduation. Students complete the academic and music major core coursework for transfer to a four-year college or university. The music core for Voice and Choral Music majors includes, but is not limited to the following:
Music Theory I-IV
Music Survey
Voice Lessons for Music Majors I-IV
Class Piano I-IV
Concert Chorale I-IV
Scholarships
Generous scholarships are available for any singer who participates in choral ensembles. Full talent-based scholarships can be applied to tuition, dormitory room, and three provided meals each day.
Performance at Holmes Community College
All students majoring in voice and choral music perform in Departmental Recitals along with their fellow music major peers. Advanced students are sometimes featured with solo opportunities on Choral and Vocal Division concert programs. Participation in choral ensembles is required for students majoring in voice. The following choral ensemble options are offered:
Concert Chorale
Coachmen Singers
The Holmes Connection!
Other small ensembles
In addition, the state chapter of the National Association for Teachers of Singing sponsors an audition program that is a rich opportunity for performance and growth. Collegiate voice students are encouraged to participate in the annual auditions held on campuses across the state.