eLearning (Online)
Looking for a flexible alternative to traditional classroom courses that fits into your schedule?
Registration for
Summer and Fall Classes
begins April 6

Be sure you sign up for your
Proctored Final Exam

2015 Spring 2nd 8 Week Online Classes
end May 8



To view Online classes, choose:

Term = Summer or Fall 2015




Session = Holmes Provided
(HCC Instructors)


Session = MSVCC Hosted
(Other CC Instructors)


Division = Academic or Technical




Campus = Online

You must log in to MyHolmes to register for online classes. Once you are in MyHolmes, click on the My eLearning tab, and follow the directions in the eLearning Registration channel.

Doghouse Help Desk ~ 1-888-422-4457

Canvas 24/7 Online Support Center ~ Click here to begin a live chat with Canvas Support. for any questions you may have or problems that you may experience related to your MSVCC online classes.
You may also call 1-855-308-2755 toll free.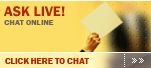 Click here to see what a Canvas Online Class looks like

Get Started
Resources
Go to ...