Marketing Graphic Guidelines
Holmes Community College's logos builds a strong foundation for the college's visual identity, which serves to build recognition for our institution across all audiences. As part of our branding initiatives in Marketing and Recruiting, we are striving to attain continuity with logos throughout the College.
Holmes Community College Department of Marketing and recruiting has created a style guide for our employees, vendors, and departments to use when using our branded elements. We encourage you to download it and read it as a primary source for all questions you may have regarding our branding. If you have any additional questions that are not answered in the style guide, please contact Stephanie Wood, the college's District Graphic Designer.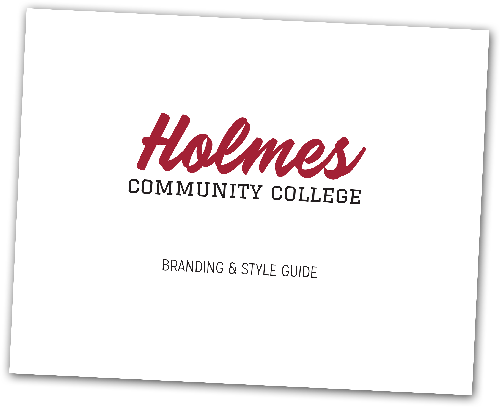 TEMPLATES
For questions placing an order for business cards, note cards, printed letterhead, and more, contact Stephanie Wood at swood@holmescc.edu.
DOWNLOAD OUR LOGOS
---
Our 2 color H logo is intended for use on light-colored backgrounds.
---
Holmes Script Logo
(Secondary Logo)
Our 2 color script logo is intended for use on light-colored backgrounds.
---
Holmes Seal
Our red and white seal versions are intended for use on light-colored backgrounds.
---
Holmes
Athletics Logos
(For athletic use only.)
Our bulldog mascot logo can be used on dark or light backgrounds.
---
Holmes CC Equal Opportunity Compliance Statement
To be included on all PRINTED materials. The font size should be no smaller than 6 point.
Holmes Community College does not unlawfully discriminate on the basis of race, color, gender, sex, pregnancy, sexual orientation, gender identity or expression, religion, national origin, citizenship, age, disability, veteran status, or genetic information. Employees, students, applicants for admission or employment, or other participants in Holmes Community College programs or activities who believe they have been discriminated against are entitled to seek relief through the Compliance Officer (662) 472-9429. Written inquiries may be e-mailed to: compliance@holmescc.edu or sent to: Compliance Office, P.O. Box 369, Goodman, MS 39079.