Occupational Therapy Assistant Technology
Please note that "Enroll Now" from the top of this page is for application to the college, not to this program.
The Occupational Therapy Assistant Curriculum is a two-year-program of study that prepares an individual to work as a co-participant in the entire occupational therapy process, at the discretion of the supervising licensed occupational therapist. The occupational therapy assistant provides intervention pertinent to creating and promoting healthy life-styles, restoring or habilitating a skill or ability, maintaining current level of function, modifying an activity to ensure success and addressing disability prevention.

Graduates of this program may apply to take the National Certification Examination for the Occupational Therapy Assistant which is administered by the National Board of Certification of Occupational Therapy (NBCOT). Students accepted into the Occupational Therapy Assistant program must complete all OTA courses at Holmes Community College. Only academic credit earned at another regionally-accredited institution will be accepted by Holmes Community College toward graduation from the OTA program.
---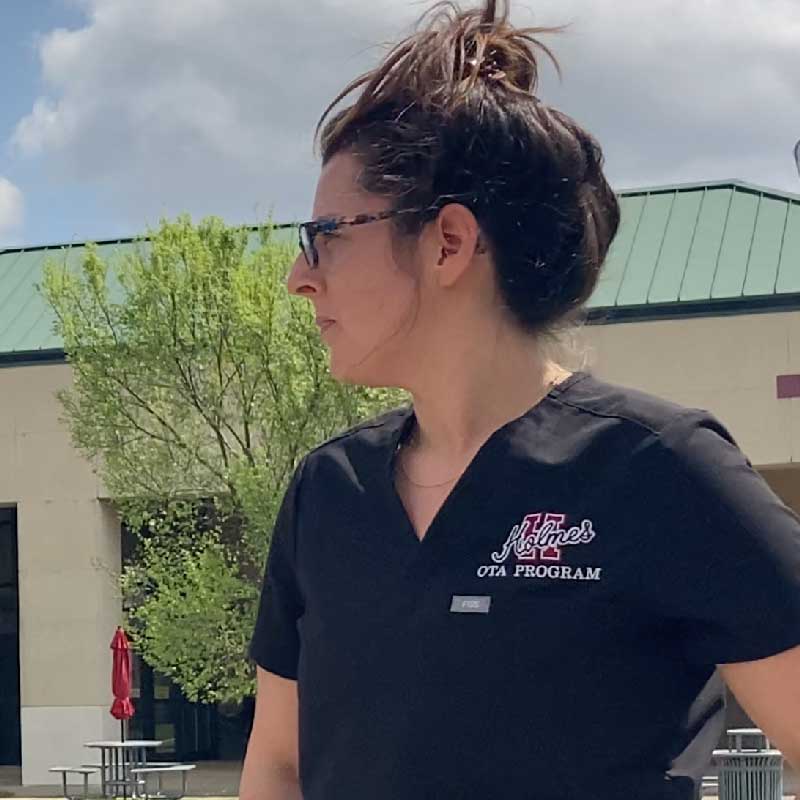 OTA's Mission
The Occupational Therapy Assistant Technology Department is designed to develop competent, ethical, and professional entry-level Occupational Therapy Assistants to provide services for persons, organizations, and populations to promote health and participation through engagement in occupation. The academic and clinical opportunities are designed to help students achieve competency in written, oral and interpersonal communication, to demonstrate a thorough understanding of the OTR/COTA approach to client treatment, to implement effective treatment for clients throughout the life span, and to participate in the management of Occupational Therapy services.
OTA Continuancy & Graduation Policy
Once accepted into the program, students will progress through five consecutive semesters. A student must maintain at least a 78 in each course to progress to the next level. Students must complete all graduation and fieldwork requirements within 9 months following the completion of the didactic portion of the program. After successful completion of this program, students will earn an Associate of Applied Science (AAS) Degree and be eligible to take the National Certification Exam for Occupational Therapy Assistant.
Graduates of Holmes CC Occupational Therapy Assistant Program
Graduates of the program will be eligible to sit for the national certification examination for the occupational therapy assistant administered by the National Board for Certification in Occupational Therapy (NBCOT). After successful completion of this exam, the individual will be a Certified Occupational Therapy Assistant (COTA). In addition, most states require licensure in order to practice; however, state licenses are usually based on the results of the NBCOT Certification Exam. Licensure in Mississippi requires graduating from an accredited program and a passing score on the NBCOT certification exam. A felony conviction may affect a graduate's ability to sit for the NBCOT certification exam or attain a state licensure.
Requirements for the Associate of Applied Science Degree (AAS) for the Occupational Therapy Assistant
The student will complete the prescribed set of courses for the Occupational Therapy Assistant Program as identified in the program course sequence and course descriptions. The student's cumulative quality point average must be at least a 2.0 to receive the AAS degree.
---
Accreditation
The entry-level occupational therapy assistant associate's degree program is accredited by the Accreditation Council for Occupational Therapy Education (ACOTE) of the American Occupational Therapy Association (AOTA). The program has been accredited by ACOTE since December 2000.
ACOTE CONTACT INFORMATION
Accreditation Council for Occupational Therapy Education
6116 Executive Boulevard, Suite 200
North Bethesda, MD 20852
(301)-652-6611
acoteonline.org
---
SUMMARY OF OTA PROGRAM TUITION AND FEES
The amounts presented below are estimates based on current pricing scales. The tuition and fee structure is subject to change prior to student enrollment. HCC offers a scholarshipto any entering fulltime freshmen with an enhanced ACT composite of 20. It covers the cost of tuition for the school year. Students must maintain at least a 3.0 cumulative GPA to continue. Fall transfer students who meet the ACT and GPA requirement are also eligible.
Year I & Year II
Cost
Year I
First Semester
Tuition and Matriculation Fees for Full Time Student
1,350.00
Textbooks, ID, parking decal
500.00
OTA Fee
575.00
Mississippi Occupational Therapy Association
30.00
American Occupational Therapy Association
75.00
Second Semester
Tuition and Matriculation Fees for Full Time Student
1,350.00
Textbooks
500.00
OTA Fee
575.00
Third Semester
Tuition and Matriculation Fees for Full Time Student
1,350.00
Textbooks
500.00
OTA Fee
575.00
Year II
Fourth Semester
Tuition and Matriculation Fees for Full Time Student
1,350.00
Textbooks
500.00
OTA Fee
575.00
OTKE Exam
15.00
Fifth Semester
Tuition and Matriculation Fees for Full Time Student
1,350.00
Textbooks
250.00
Graduation
35.00
Associated Fieldwork Costs may include room, board, and travel depending on assigned facility and location.

Cost of books per semester is estimation.
Post Graduation
National Certification Examination
550.00
Mississippi Practice Permit (Limited Permit)
200.00


Program Outcomes
| Year | Accepted Applicants | Program Graduates | Program Graduation Rate | First-time NBCOT exam takers | First-time Successful NBCOT exam takers | Passage Rate for First-time Successful NBCOT exam takers | Passage Rate for Successful participants who passed within first year |
| --- | --- | --- | --- | --- | --- | --- | --- |
| 2014 | 20 | 15 | 75% | 15 | 14 | 93% | 100% |
| 2015 | 20 | 15 | 75% | 15 | 13 | 87% | 100% |
| 2016 | 20 | 14 | 70% | 14 | 12 | 86% | 100% |
| 2017 | 17 | 14 | 88% | 14 | 10 | 71% | 100% |
| 2018 | 15 | 14 | 93% | 14 | 13 | 93% | 100% |
| 2019 | 19 | 14 | 74% | 14 | 13 | 92% | 92% |
| 2020 | 17 | 17 | 100% | 17 | 15 | 88% | 88% |
| 2021 | 15 | 15 | 100% | 15 | 10 | 66% | 88% |
| 2022 | 16 | 11 | 69% | 10 | 7 | 70% | 90% |
| 2023 | 13 | 9 | 69% | PENDING | PENDING | PENDING | PENDING |
| Average | 18 | 14 | 81% | 14 | 12 | 83% | 95% |
| | | | | | | | |
https://www.nbcot.org/Educators-Folder/SchoolPerformance